Marlowes Talk - our very own podcast!
We're delighted to announce we've launched our very own podcast! 
Marlowes Talk is a dedicated podcast, focussing on real life stories within the Hemel Hempstead community.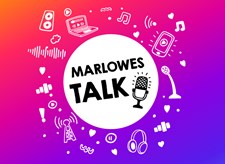 Listen to the podcast on Spotify here. 
Listen to the podcast on iTunes here.
Aiming to provide a voice for the local Hemel community, we're working alongside journalist Sophie Sulehria as we talk to local businesses, charities, key stakeholders within the area and of course the local community! 
The first episode is out NOW and sees Sophie gain exclusive access to DENS' headquarters to talk to the Chief Executive of the charity Wendy Lewington - gaining insider knowledge alongside taking a tour to find out about a range of their fantastic services.
You can expect to find out further information about DENS, such as their foodbank services, The Bike Project, Start-up Pack and the charity's new 'Go Yellow for DENS Week' taking place from 21st – 27th June 2021.
Future editions of the Marlowes Talk podcast will dig deep into local real-life stories straight from the community, with real-life answers which many will be able to relate to.