Shop to the Future
Hoverboards and flying drones will replace car parks and security guards in the shopping centres of the future, say local schoolchildren.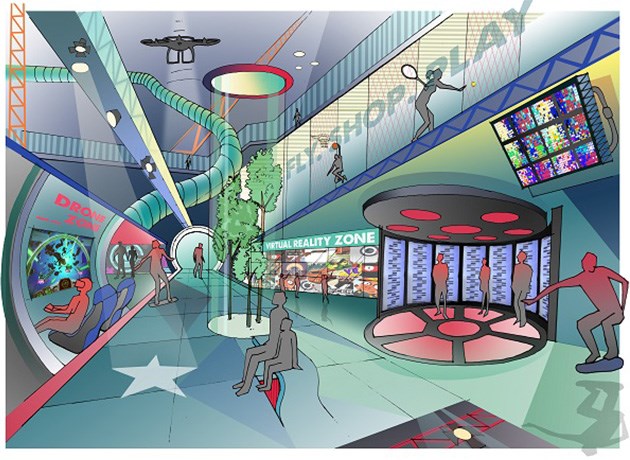 Thirty pupils aged nine to 10 from Micklem Primary School in Hemel Hempstead were invited to take over the running of the Marlowes as part of a nationwide Takeover Challenge by the Children's Commissioner to give young people an insight into a career in retail.
They were challenged to imagine how the way we shop today would change in 100 years' time. The Shopping Centre 2116 project for the Marlowes in Hemel Hempstead revealed that children thought innovations in leisure, entertainment and technology would shape the way we shop in years to come.
Virtual shop assistants, YouTube shops and interactive 'look before you buy' photo booths in fashion and clothing stores will transform the traditional shopping experience.
Getting around shopping centres will be a lot easier in 100 years, with teleport stations replacing customer lifts.
Segways will transport shoppers from one store to the next and a train track around the entire centre will help them come and go as they please.
Pupil Sam Freeman predicted that drone racing would be a key trend in future shopping centres. Classmate Benjamin Baldwin foresaw open - plan shopping centres with teleports and flying cars.
Leisure and entertainment facilities also featured heavily in the Marlowes Shopping Centre 2116 project, with indoor football pitches, motocross, swimming pools and cinemas alongside shops.
Other pupils predicted that future shopping centres would be environmentally friendly and powered by wind machines and 'magic water'.
Year 5 teacher Miss Waterhouse said: "Our pupils really enjoyed thinking up lots of ideas about how people will shop in the future. They came up with some imaginative concepts and challenged our perceptions of what the future of retail will look like."
Vince Williams, centre director at the Marlowes, said: "Shopping centres will be very different places in 100 years, if these ideas become reality. Retail shopping will be more interactive and the line between shopping and socialising will become increasingly blurred. We are already taking the suggestions of the Micklem pupils on board and building them into our future thinking."