Capital & Regional, the owner of The Marlowes, is playing a key role in creating a much more welcoming, vibrant and successful town centre, working alongside Dacorum Borough Council.
---
The Proposals
The current proposals seek to bring forward a fantastic new multi-screen cinema, a variety of new family-friendly restaurants, major interior renovations and the refurbishment of the North Court entrance. They are part of a wider vision for significant expansion and improvement.
We are working hard to transform The Marlowes, making it the first and best choice for our shoppers, the local community and all those who visit Hemel to shop, eat and visit the cinema.
---
Download the presentation boards
In June 2017 Capital & Regional held a public exhibition, to present the exciting proposals. We were delighted with the overwhelmingly positive response we received and thank you very much if you visited to learn more and give your feedback. The presentation boards for the exhibition can be downloaded below which describe the proposals in more detail.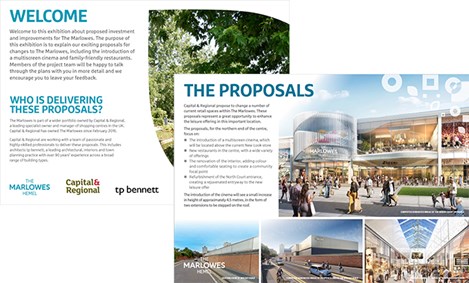 ---
---
What happens next?
Our planning application has been submitted to Dacorum Borough Council and we expect it to make a decision by the end of the year. We will keep you updated.
---
Contact us
The project team remain available to answer your questions on the proposals, so please do contact us if you have any further queries:
Telephone: 0800 112 6584
Email: marlowesproposals@capreg.com
---