Capital & Regional, the owner of The Marlowes, is playing a key role in creating a much more welcoming, vibrant and successful town centre, working alongside Dacorum Borough Council.
In October 2017 we were granted planning permission by the local authority for our £13 million reconfiguration of The Marlowes, part of our wider vision for significant expansion and improvement.
---
The Proposals
The proposals will bring forward a fantastic new multi-screen cinema, a variety of new family-friendly restaurants, major interior renovations and the refurbishment of the North Court entrance.
This will bring more choice and enhanced facilities for the local community, helping to drive further investment into the town, while strengthening Hemel's day and evening economy. The refurbished North Court, where new restaurants will be located, will be a lively community space, with vibrant colours and relaxed seating areas.
We are working hard to transform The Marlowes, making it the first and best choice for our guests, the local community and all those who visit Hemel to shop, eat and visit the cinema.
---
Download the presentation boards
In June 2017 Capital & Regional held a public exhibition to present the proposals and invite comment ahead of submission to Dacorum Borough Council. The presentation boards for the exhibition can be downloaded below, and they describe the proposals in more detail.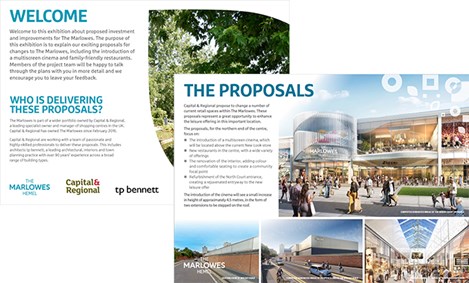 ---
---
What happens next?
Dacorum Borough Council has granted planning permission for the proposals detailed above. We will keep you updated regarding works to The Marlowes and the timing of these.
---
Contact us
The project team remain available to answer your questions on the proposals, so please do contact us if you have any further queries:
Telephone: 0800 112 6584
Email: marlowesproposals@capreg.com
---