What to Expect at The Marlowes Summer Festival 2018
It's that time of year again..! The sun is shining, the summer holidays are on the horizon and we're all getting excited for The Marlowes Summer Festival!
As you may already know, every year, we host a weekend of summer festivities filled with delicious food, refreshing drinks, live music and plenty of kid's activities too. This year is of course no different and we're thrilled to be able to invite you to The Marlowes Shopping Centre to bask in all things summery on Saturday 21st and Sunday 22nd of July.
Food
During The Marlowes Summer Festival, we will be playing host to a variety of fantastic independent stall holders who will be around all weekend to serve you fresh, delicious food and drink. This year we have a huge selection of different cuisines; from Asian to Mexican, waffles to duck wraps, we have it all! We're even offering something for your pooch with a specialist dog treat stall…
We want to offer our festival goers the chance to sample new and exciting food and so have sourced some of the best local and slightly further afield independent store holders to come and show off all they've got in the hope of igniting your taste buds and offering you a real taste of summer!
Entertainment
What would a summer festival be without music?! This year we have the incredibly talented David Marken and Pari Shamir performing across the weekend.
David Marken is an acoustic guitar player and singer who has a stunning repertoire of around 1,000 songs that he performs for a selection of different events. His songs range from Rat Pack era to Blues, Country, Pop, Rock, Rock 'n' Roll, Hip Hop and even a select few acoustic guitar Rap songs! David will be performing his fantastic music for us on Saturday 21st.
On Sunday 22nd, the brilliant Pari Shamir will be gracing the Marlowes Summer Festival stage. After training at the Musical Theatre Academy in London for two years, Pari has performed in the West End and sang at the Royal Albert Hall for Save the Children. She too has a wide and varied repertoire that will truly get you into the festival mood!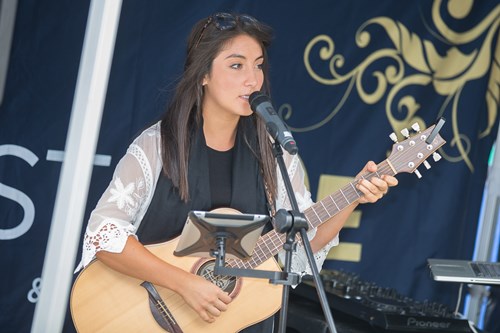 Kids
This is a very child friendly festival with lots of kid's activities going on throughout the weekend. As part of our Kid's Club, we'll be offering free face painting, where your little one will get to pick what design they want to help them transform for the day! From full face to delicate patterns, our face painting artists will ensure your child thrilled with the outcome.
We will also be offering balloon modelling where kids can watch how to manipulate and shape balloons into their favourite animals and objects! There will be a Find the Food Trail around the centre, rewarding those who manage to complete it!
During these activities and throughout the day, our lovely mascot, Marley will be making appearances, ensuring that your child has a magical time exploring the festival and all it has to offer!
Over the next few weeks leading up to The Marlowes Summer Festival, we will be revealing who our stall holders are, some more information on how your kiddies can get involved and you'll even get a sneak peak of what to expect in our video!