The Marlowes Summer Festival Stall Holders Reveal!
We're now only a few weeks away from The Marlowes Summer Festival… It's so close we can almost taste the beer and smell the burgers!
We're absolutely thrilled to be able to announce who this year's Hemel Festival stall holders are and what tasty treats you can expect from them. With a range of different and exciting cuisines from local suppliers, you can pick from Caribbean food to Mexican, Indian flavours to South African and chocolate to ice cream…
So without further ado, here are The Marlowes Summer Festival stall holders that will be with us on 21st and 22nd July:
Saturday & Sunday
Funky Elephant
Caribbean Food
Funky Elephant offer a fantastic range of Indian and Caribbean flavours that are created to be authentic, fresh and healthy. All of Funky Elephant's products are vegan, nut free, gluten free, contain no additives or preservatives, are low in fat, salt, sugar and calories. The ingredients are locally sourced and healthy
Bokkie
South African Cuisine
Bokkie specialise in South African cuisine and are masters of bunnychow , a South African fast food dish consisting of curry filled hollowed out bread. They also offer spiced pulled meats that are all served in Artisan bread. Their food is made from fresh local produce giving you distinct regional flavours
La Flamenca
Churros
La Flamenca are an award winning Churros stall who serve up delicious Spanish Churros and chocolate as well as vegan Churros and vegan toffee! All of their sauces are homemade ensuring the best quality and flavour. Not only do they offer sweet treats… but Spanish Tapas too!
Waffle Wands
Waffles
These stunning waffle wands are a unique take on a traditional festival favourite. Your tasty waffle will be served to you on a stick, making it easier and more fun to eat! This gorgeous product is not only delicious, but looks fantastic too! Perfect for that selfie… Joining us from St Albans, Waffle Wands will be with us all festival weekend
Woodwards Farm Butchery
Burgers
What would a food and drink festival be without a classic burger?! Woodwards Farm Butchery rears their animals on their own farm and all other products are also produced on site too, ensuring fantastic quality and free range products. Indulge on their delicious burgers throughout the weekend
Auberge du Chocolat
Chocolate
Auberge du Chocolat are premium, luxury chocolate makers who offer prize winning chocolates and chocolate bars. This beautiful, artisan chocolate stall offer a stunning range of handmade chocolates with gluten free and vegan options available also
Coffee Ethic
Coffee
Coffee Ethic are grounded in ethical and social values, supporting vulnerable people to reintegrate back into work and society. All of the profits made from their yummy coffee is reinvested into their charity, Druglink. Coffee Ethic will be providing you with your favourite caffeinated, high quality drinks all weekend long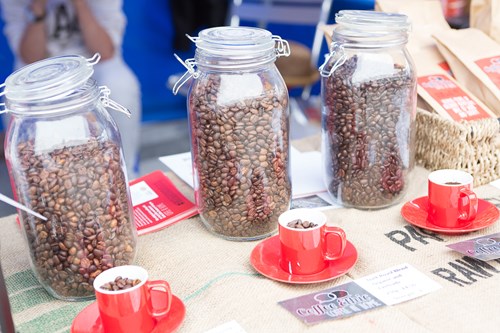 Crumb de la Crème
Cakes
This lovely stall will be serving up luxury, delicious homemade goods throughout Saturday and Sunday. From cupcakes to delicious tray bakes and brownies, Crumb de la Crème will be supplying the sweetness at the Marlowes Summer Festival all weekend long!
Mario's
Ice Cream
Mario's is a family owned and operated coffee shop & Gelateria who offer a wide range of delightful ice cream flavours. Make sure you cool down in the summer heat with one of their stunning ice creams and experience the taste of a summer weekend
The Ojos Food
Spanish Deli
Bringing the taste of Spain to Hemel is The Ojos Food! They specialise in importing Spanish food for the retail, wholesale and food service sectors. Their products are high quality and made with only natural ingredients. They offer a range of delicious meats from chorizo to Jamon and Lomo Embuchado to Pimenton de la Vera! The Ojos Food will be at The Marlowes Summer Festival throughout the weekend so be sure to come and say hello!
Saturday 21st July
Khana Cookery
Indian Food
Khana Cookery are Hemel locals, serving some of the best Indian food in town! They are an independent, family-run catering service that will transport you out of our town and over to the streets of India with your first bite. We're thrilled to be able to offer such authentic Indian street food at our summer festival
Sunday 22nd July
Baja Cantina
Mexican Food
Baja Cantina are a bright and lively trader, full of love for all things tacos! This Mexican street food stall will excite liven your day with authentic flavours. They'll be with us all Sunday so for all the taco lovers out there, make sure you come and say hello!
Kaur's Spice
Spices
Kaur's Spice started as a way to introduce the real authentic taste of Indian food into the homes of Britain. Kaur's Spice will be offering you bags of spices, coming in mild, medium, hot, very hot and extremely hot so that you can make your perfect tasting curry at home! They also offer a range of spice mixes including onion bhaji, pakora spice, raita spice and tandoori spice mix. Kaur's Spice will be joining us on Sunday
We hope you're as excited as we are to meet all of these lovely stall holders at The Marlowes Summer Festival and to try all of their delicious food and drinks.