The Hemel Summer Festival Stall Holder Spotlight
The Hemel Food & Drink Festival is just a week away and we're super excited to be able to invite some of the best culinary talent in the local area to the festival to serve up their delicious food and drink.
We wanted to get to know a little more about some of the lovely businesses that will be joining us on 21st and 22nd July so we had a little chat with four of them to find out what inspired their business, what their favourite food from their selection is and what they're most looking forward to about The Hemel Summer Festival.
So, without further ado…
Waffle Wands
Inspiration
The owners of Waffle Wands have always been involved in food and catering, having previously run a café in Bricket Wood. One day they saw one of the waffle irons which is able to produce Waffles on a stick and marketed  as Christmas trees. After finding interest in these irons, they realised they had something very unique and a product that is completely customisable. 
They wanted to share this product with the world so had a waffle cart built. After receiving tons of positive feedback from events such as weddings, they felt they could branch Waffle Wands out even further and now have a pop-up at many market places and summer festivals. Ultimately, they believe it's important for people to enjoy food and they certainly feel they can put smiles on faces with their product, which always goes down a treat with kids and adults.
Changing Shapes
Whilst they love traditional waffles, they felt the experience could be improved, by having the waffle on a stick it makes it easy to travel with and socialise with friends. Also by having it in the box they provide, means the waffles can be smothered in toppings. They're also very conscious of their eco footprint so everything served is completely recyclable and disposable.
Favourite Waffle Wand
They'll be serving up plenty of tasty treats but with all the buzz around the World Cup (despite our defeat this week!) they'll still be serving up their Three Lions Waffle which includes white chocolate sauce, strawberries and whipped cream for good measure!
Most Excited For:
They always love seeing how excited their customers get when tasting their product, but equally enjoy the ideas people come up with when creating their own waffle. They like to give the customer power and see what creations people come up with as everyone's taste is different. They pride themselves on creating a good set up and looking presentable so they're looking forward to being a part of this year's Hemel Summer Festival and meeting fellow, local traders.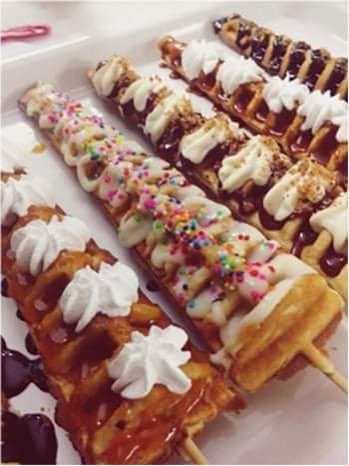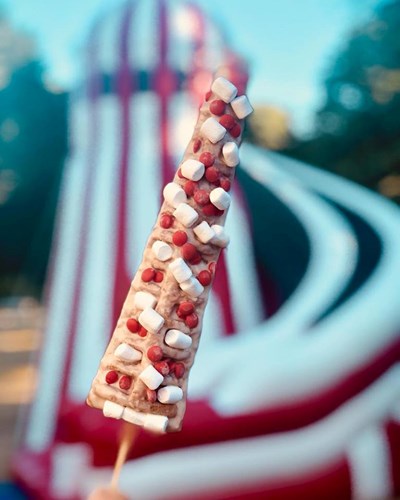 Crumb De La Crème
Inspiration
The owner, Natalie Cuozzo has been baking for years and would often make cakes for work colleagues and after having her little boy, she decided that she wanted to pursue her dream and started the business January 2017.
Inspired by the street food scene, Natalie wanted to sell cakes and brownies in a unique way. She came across a street food community where all of the foods were homemade and everyone had a real passion for food and originality as she did and she applied for several events. Since then, the business has gone from strength to strength and they now sell in Brick Lane every weekend.

Personal favourite bake
Natalie likes to create classic bakes with unique twists and uses quality ingredients. Their best-selling brownie is the Cookie Dough Brownie which is raw cookie dough on the rich classic brownie - one of their favourite creations is The Elvis which is a banana blondie with a peanut and bacon topping.
What makes them unique
They believe that they stand out from the crowd because they give customers choice; from brownies to large rainbow drip cakes!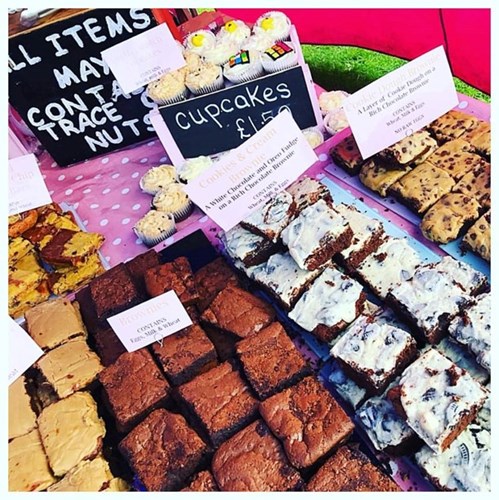 Woodwards Farm
Inspiration:
At the beginning of 2008, the couple, Will and Belinda, left the comfort of their office jobs in Cambridge to return home to Will's family farm in Winwick near Huntingdon. They wanted to provide food that they enjoyed growing, rearing and producing which could then be provided directly to the public.
What makes them special
They're now in their 10th year of trading. All of their beef is reared on their farm and then the meat is hung for 21 days in their on-site butchery before being made into our burgers. The burgers are free from artificial preservatives and they use free range eggs to bind them. Customers love that they know where the meat they're eating comes from and that Woodwards Farm are involved in every step of the supply chain.
Their favourite burger
A personal favourite of theirs is the 6oz cheese burger topped with dry cured streaky bacon, shredded lettuce, gherkins and tomato relish. 
Most excited for
They have said they're very much looking forward to being part of Hemel Summer Festival where they can meet new faces and bring the Woodwards Farm brand and concept to more people.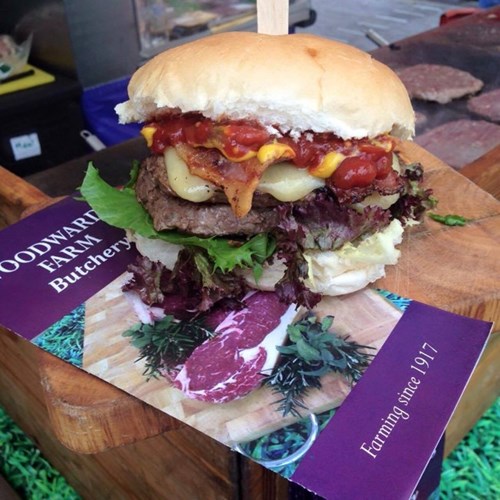 Funky Elephant
'Here at Funky Elephant we believe you are what you eat, the better you fuel your body – the better your life will be, which is why we have created a range of award winning stir in sauces, marinades, spice rubs and street food'
Inspiration

Ayesha has always loved cooking. She was born into a Caribbean family where food was at the very heart of the family. Her earliest memories of childhood revolved around food and she was fascinated with the process of how  simple raw ingredients and spices would be carefully put together to create food bursting with flavour and some of the most wonderful aromatic dishes she had ever tasted!
Ayesha fell in love with North Indian food at a late age and was taught how to cook real Indian food by a restaurant chef. He showed her how to create freshly cooked and true to traditional recipes, which were light, wholesome, flavoursome and healthy - unlike the mass produced greasy, fat laden commercial Indian food that we are accustomed to. She then went on to create a range of stir in sauces, spice rubs and marinades that can be used by anyone.
Ethos:
The ethos of Funky Elephant is simple; fantastic flavours, handmade, with quality, healthy ingredients that can be recreated with minimum fuss in your own home. Their award winning range of products comprises of North Indian and Caribbean flavours and has been created to be authentic, fresh and healthy and give a new look and feel to Indian/Caribbean cuisine.
A unique spin
Funky Elephant wanted the range to be accessible to everyone so making the products vegan, gluten, dairy and nut free was a must.  Their products are bursting with flavor and have no hidden nasties
Favourite dish
Their favourite dish is the Jerk Chicken rice pot made with award winning Jerk Marinade – (the only award winning Jerk Marinade in the country!). They say it's a really exciting meal that has depth of flavour throughout
Most excited for
Last year was Funky Elephant's first year at Marlowes Summer Festival and they said it was amazing. Customers really embraced the Funky Elephant menu and this year, they claim that the menu is even better. Their aim is to the public continually excited about what they do!