Kid's Activities at The Marlowes Summer Festival
With The Marlowes Summer Festival taking place this weekend, we thought that we would tell you about the great activities for kids at this year's event!
Whilst adults can enjoy the produce of the many stall holders selling their tasty food and drink this weekend, the children can be kept busy with a range of fun and exciting activities! This year's event is packed with fun for all the family, so what's stopping you from joining us this weekend for The Marlowes Summer Festival?
Here is a list of the activities on offer at this year's festival:
Free Face painting 
Ace Face Painting have a lovely team of face painters who will be with us all day to help with any of your little one's face painting needs. From full face to delicate patterns, there will be a range of designs to help put a smile on your child's face and transform their day! They even offer a variety of all your child's favourite characters from movies, TV and cartoons, so they can truly be their hero for the day along with their friends! This activity is one you just can't miss out on!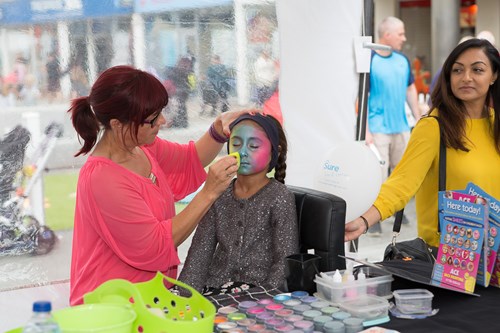 Balloon Modelling
The award winning balloon artist Tony Twist will also be joining us at this year's Summer Festival. Tony, who lives in Hemel, has travelled the world bringing smiles to children and adults alike with his unique design style and balloon creating skills! Tony is an amazing talent with a range of balloon based capabilities from creating beautiful animals to intricately designed cartoon characters! There is no doubt that the kids will be watching with awe as Tony sculpts his pieces of balloon artwork! If you don't believe it, make sure to check out his Facebook page to see some of his amazing creations and also see him this weekend at The Marlowes Summer Festival!
Find the Food Trail
In this challenge, children will have to explore the centre, hunting for ingredients that will make up a meal! Once complete, you just have to make sure to hand in your form at the customer service desk to receive a small sweet treat and also to be in with a chance of winning one of four £25 gift cards! This is a great activity for older children who can be left on their own to complete or for younger children who want a challenge to complete with parental supervision.
If these activities weren't enough already, we will also be joined by The Marlowes' very own mascot – Marley. Make sure to say hi and get a photo with everybody's favourite furry friend! 
With so much going on at The Marlowes Summer Festival, this is one event that just can't be missed! Amazing food and drink for the parents, and so many great activities to bring smiles to your children's faces!
We cannot wait to see you all there!
The Marlowes Summer Festival will be running this weekend (21st and 22nd July) from 1pm to 4pm showcasing fantastic food and drink from a variety of independent stall holders. There will also be music from both David Marken and Pari Shamir over the weekend!